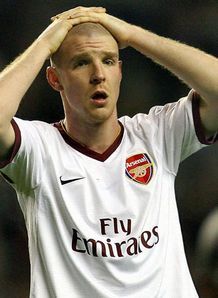 Newcastle will have to offer keeper Shay Given and £7 million to sign Arsenal defender Phillippe Senderos. The Swiss international is wanted by Magpies boss Kevin Keegan in order to sort out his sides defensive woes before the start of the new campaign. (Mail)

Arsenal boss Arsene Wenger has apparently told Newcastle they must bid £7 million plus one of their prized assets, Shay Given.

Senderos captained Arsenal during their 1-0 friendly defeat to Juventus yesterday, however he is likely to start the season on the bench with William Gallas and Kolo Toure to come into the centre of the Gunners defence.

I personally don't think Keegan should even consider giving away one of his best players and £7 million in order to sign the 23-year old. Senderos is an average defender at best and I feel Newcastle would be wasting their time and money if they were to sign Senderos.
1 comments: