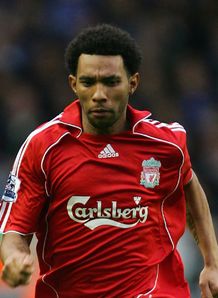 Blackburn Rovers are lining up a move for Liverpool midfielder Jermaine Pennant as a replacement for David Bentley. Pennant has been linked with a move to Paul Ince's men for weeks now but so far nothing has materialised.

After receiving £18 million for the sale of Bentley to Spurs, Paul Ince is keen to rebuild his squad. Pennant, 25, has spent two seasons at Anfield, struggling to nail down a first team spot. He has made over 50 appearances for the Merseyside club, scoring three times in the process.

I wouldn't be at all surprised if this move does indeed go through. Pennant has only been a part player at Liverpool and I feel it would be in the best interests of himself and Liverpool if they were to part company. It is thought that Rovers will have to pay as much as £6 million to secure the former Birmingham winger's signature.
First For Football is a new football blog which sees two eager football fans express their opinions on the latest football news and gossip. Myself and Frankie have come together to create what we hope will be a very successful blog in the long run, which will strive to give you the readers up to date news on all footballing matters.


First For Football will look to become even more successful, than my previous blog Football Corner, which I sold very recently. We hope during our time you will continue to come back and read our insightful articles as well as expressing your opinions in the process.